Dancing With the Starts 4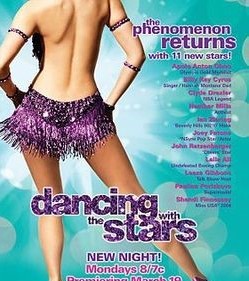 Presented By:
David Wesley & Sean Ryan
Judges Joey Dearn & Jim TITANIC & Fred TITANIC & Sean Henry
Broadcast
Original run
September 12, 2005 -November 15, 2005
Season Champions
celebritywinner: Anna
professionalwinner: Danny
Series Chronology
Previous season
Season 3
Next season
Season 5
Season four of Dancing with the Starts (U.S.) premiered on March 19, 2006. and aired until May 22, 2006
To avoid direct competition with s American Idol, Dancing with the Starts changed time slots from the previous season. In this season, the performance show aired on Mondays, and the results show aired on Tuesdays. No elimination was scheduled for the first week, in order to allow viewers two weeks to see all of the couples perform both Latin and Standard ballroom dances.
Couples Future Appearances
Edit
Judges' scoring summary
Edit
Best and worst dances
Edit
Highest and lowest scoring performances
Edit
Songs and individual scoring
Edit
Dance chart
Edit