Dancing With the Starts 3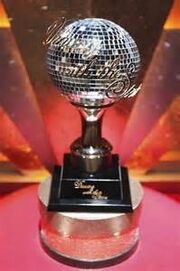 Presented By:
David Wesley & Sean Ryan
Judges Joey Dearn & Jim TITANIC & Fred TITANIC & Sean Henry
Broadcast
Original run
September 12, 2005 -November 15, 2005
Season Champions
celebritywinner: Danny Huggins
professionalwinner:Ke lly Shumway
Series Chronology
Previous season
Season 2
Next season
Season 4

Season three of Dancing With the Starts premiered on September 12, 2005 and ended November 15, 2005.
For this season, the scoring system was changed. Fan vote only counted for 25% of the total score and scoring was now translated directly from percentages rather than into ordinals. The judges scores were added up, and each performer was given points based on the percentage of the total points distributed among all performers. (For example, a team received a score of 25. A total of 207 points were awarded to all nine performers. The team received 12.08% of that total, so that team earned 12.08 points. The couple happens to be Sara & .) The fan vote was handled the same way, with the points based on how much of the total fan vote the star received. (So, in the same example, if the team earned 15% of the total fan vote, their grand total is 27.08 points.)
The results shows of this season featured the Slim Fast Dance Challenge, where and illustrated how exercise such as dancing could aid weight loss. Unfortunately, wound up gaining 5 pounds from what she said, "too much Slim Fast
Weekly scores and songs
Edit
Week 8: Halloween Week
Edit
On the October 25, 2005, results show, the first Dancing with the Starts – The Tour event was announced. Produced by JWT and Anschutz Entertainment Group, the live-action tour featured celebrities and professional dancers from U.S. seasons 1–3. The tour through 38 arena venues started in San Diego, California on December 19, 2005, and ended in Atlantic City, New Jersey on February 11, 2006. The pairs performing in the tour were: ◾Drew Lachey & Cheryl Burke ◾Joey McIntyre & Kym Johnson ◾Lisa Rinna & Louis Van Amstel ◾Joey Lawrence & Edyta Śliwińska ◾Harry Hamlin & Karina Smirnoff ◾Willa Ford & Maksim Chmerkovskiy
At the last minute Willa & Maksim pulled out due to other commitments.