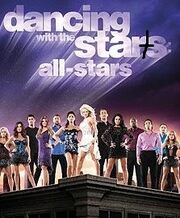 Presented By:
Hayes Grier & Emma Slater
Judges Adam From TA & Cheryl Burke & Selena Gomez
Broadcast
Original run
November 29,2015-TAB
Season Champions
celebritywinner John Wilkinson
professionalwinner Julianne Hough
Series Chronology
Previous season
Season14
Next season
Season 16
The fifteenth season of Dancing With the Starts Wikia (also known as Dancing with the Starts: All-Stars) began on November 29, 2015
The season featured twelve returning couples, deemed an "all-star cast". Hayes Grier and Emma Slater returned as hosts this season.
The finale marked the first time three female and one Male celebrities competed head-to-head for the mirror ball trophy. Season 8 finalist Shawn Johnson defeated Season 8 champion Nick Cataldo and Season 1 champion Kelly Shumway to win the all-star title.
Development
Edit
All the Star from your Favorite Season returning couples Like Sabrina Bryan from Season 5
Weekly scores
Edit
Week 1 premiere Night
Edit
This the Premiere of are All Star Season IT GOING TO BE THE BIGGEST SEASON EVER ALL OF THE STARS RUNTER TO SEE IF THEY CAN GET A ANTHER TROPHY. AND ALL OUT THE FIANLST OF ALL THE SEASONS. Danny & Kelly S 17.0 (5.5, 5.5, 6) Cha-cha-cha "You Know I'm No Good"—Amy Winehouse Eliminated
Week 2 Switch-Up Night
Edit
Individual judges scores in the chart below (given in parentheses) are listed in this order from left to right: Adam From TA, & Guest only for this and All the Weeks Judge Rumer Willis & Selena Gomez .
The couples were required to switch professional partners this week and learn a new style of dance. Due to the nature of the week, no elimination took place at the end of the show.
Here are the Switch-Up for our Stars
Edit
Nick & Drew
Melissa & Jon
Julianne & Apolo
Kelly S & Danny
Kelly M & Justin Bieber
Chelsie & Louis
Mark & Sabrina
Emmitt & Derek
Cheryl & Maksim
Tristan & Shawn
Kirstie & Tony
Joey & Peta
Gilles & Karina
Bristol & Anna
Week 3 The Wiz Night
Edit
The Wiz Night is where are Stars Pick they Fovite Song for the Wizard of OZ
Week 4 Team freestyle Week
Edit
Rummer , when Selena will be taking another week off. Each couple performed an individual, unlearned dance and a team freestyle. The teams were chosen by the highest scoring couples (Team "") and (Team "").
Week 5 Most Memorable year Night
Edit
due to a chronic back problem.Therefore, no one was eliminated at the end of the show.
Week 6 Spring Break Special
Edit
Couples perform one unlearned dance and a team dance John Danced with (Melissa Rycroft) In Week 6
Week 7 Christmas Night
Edit
This is where Our Star will have to do a Christmas Song and THERE WILL NOT BE A Eliminated THAT NIGHT
Week 8 Latin Night
Edit
Couples performed unlearned Latin-themed dances; paso doble is introduced. AND YES THERE WILL BE A Eliminated THAT NIGHT A TWO DOUBLE Eliminated
Week 9 American Icons Night (Semifinals)
Edit
Couples performed a routine to an unlearned dance, as well as a routine coached and styled by one of the four judges. To avoid favoritism, the judges did not score the couple they coached, so the second round dances received a total score out of 30 instead of the usual 40 points YES THERE WILL BE A Eliminated
Week 10: Finals
Edit
On the first night, couples danced to a dance previously performed, as well as a freestyle routine.On the second night, the remaining couples performed a fusion challenge, having only 24 hours to prepare for the dance.