Dancing With the Starts 1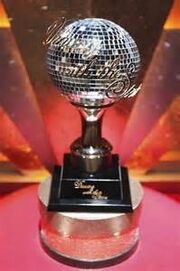 Presented By:
David Wesley & Samantha Ryan
Judges Joey Dearn & Jim TITANIC & Fred TITANIC & Sean Henry
Broadcast
Original run
December 5,2017
Season Champions
celebritywinner:
professionalwinner:
Series Chronology
Previous season
N\A
Next season
Season 2
Dancing with the Stars, Season 1 debuted on on November 24, 2003. Six celebrities were paired with six professional ballroom dancers. David Wesley and Samantha Ryan were the hosts for this season. and the Season End on December 29,2003,
The premiere drew over 13 million viewers, the biggest summer debut ever for an American reality series. The second week climbed to 15 million viewers, and the show climbed to No. 1 in the summer 2003 TV season ratings, where it remained for the remainder of the season. The season finale aired December 29, 2003.
| Celebrity | Notability (known for) | Professional partner | Status |
| --- | --- | --- | --- |
| Tomas Dearn | The Bachelor teen star | Eve Wesley | |
| Evan Ryanee | A School Teacher | Renee Ferguson | |
| Rachel Ryaenne | Supermodel | Jonathan Robison | |
| Joey Brooks | Going to be a fisrt time Dad | Whitney DelGrosso | |
| John Hannah | Going to be a Secord Father | Charlotte Jørgensen | |
| Nick Cataldo | Actor & Singer & Dancer | Kelly Monaco | |
Primmer and First Eliminated
Double Eliminated
Eliminated
Eliminated
Eliminated
Week 6 Finale
Edit
Opening for the Finale crown the First Championship
Dance off
Edit
Dance chart
Edit